If you simply want to know what we chose as our #1 pick for the best miter saw stand, then we recommend the Bosch T4B as the best choice.
A miter saw is an essential piece of woodworking equipment that most pros know are incredibly useful for certain jobs. Having one available at all times is a necessity, and this becomes more true the more advanced you become at woodworking.
In addition to a miter saw, a miter saw stand is also a must-have… that is, assuming you do work in other locations besides your workshop. That said, even if you don't, a miter saw stand is a worthwhile investment for its usefulness and convenience.
In fact, considering how essential a miter saw is and how often this tool used by beginner and pro woodworkers alike, we'll go as far as saying that a miter saw stand is a must-buy for any woodworker who is serious about their craft.
When it comes to miter saw stands, there are many available from the market, all from different brands and with various price points, features, etc.
A bad miter saw stand will only be more hassle than it's worth, while a good one will likely be used (and appreciated) for years to come.
In this article, we will go over everything you need to know in order to buy the best miter saw stand for you – then, we will share the five best miter saw stands available for online purchase today.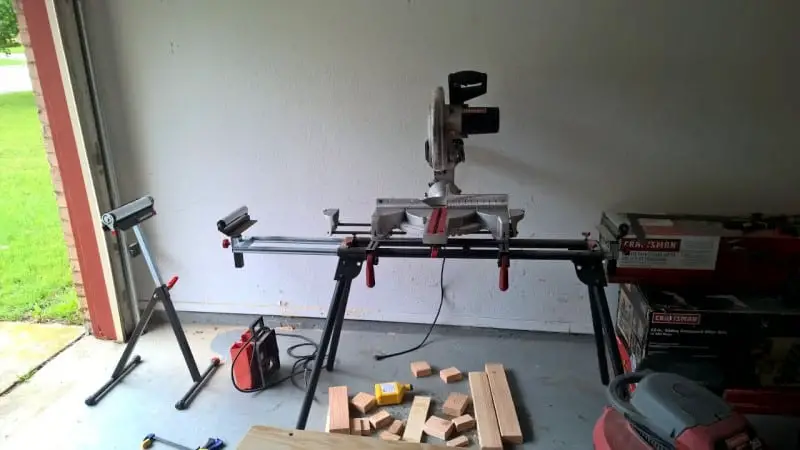 The five miter saw stands we are going to review are:
5 Best Miter Saw Stands Reviewed
Based on all the various features and factors we've just gone over, we've compiled this 'Top 5' list of the best miter saw stands that you can buy online today.
All of these stands are fantastic options to buy, and any woodworker – from new to pro – will appreciate these choices.
That said, certain stands have different benefits then others; take into account all the factors that we've included in this guide and base your decision off of what you want and need.
No two woodworkers are alike, so what is a good miter saw stand to one may not be for another.
All that said, be sure to do your own research before making any woodworking equipment purchase.
So, without further ado, the top five best miter saw stands are:
1.Bosch Portable Gravity-Rise Wheeled Miter Saw Stand (T4B)
BOSCH Portable Gravity-Rise Wheeled Miter Saw Stand T4B
ADJUSTABLE: Featuring a Bosch-exclusive, patented Gravity Rise System designed for rapid set up and easy breakdown, taking the toughest jobs to the next level
CAPACITY: The Bosch T4B Gravity-Rise Miter saw stand has up to 18 feet of material capacity, the highest capacity among fully portable units
PORTABLE: Built with 8-Inch pneumatic wheels for ease of transport over jobsite terrain with even the heaviest miter saws attached
UNIVERSAL: Featuring Rapid Release tool mounts - for use with most major competitors miter saws. Adjustable out feed -up to 12 inch in height
DURABLE: Equipped with adjustable leveling feet for stability and durability on uneven surfaces. Material - Steel
'Bosch' is a reputable and well-known brand in the big wide world of woodworking, and the 'T4B' miter saw stand is a good example of why they are so successful.
When it comes to miter saw stands, you really cannot get much better than this specific model – it is used by beginners and pros alike and is lauded as one of the best stands available on the market today.
A major benefit of this stand is the adjustable length, which means it can accompany varying miter saw weights and sizes.
Also, it is easily portable thanks to the rolling wheels – if you are going from job site to job site, then that is a huge benefit.
As far as 'ease of use' goes, this stand delivers – Bosch's 'gravity rise system' makes it easy to use with only one hand, allows you to focus on the actual woodcutting job at hand.
Yet another feature that is very rare among miter table saw stands are the 'leveling feet' – this makes the stand remain even on most uneven ground surfaces. Since this can be used on-the-go in remote locations, this feature is a huge benefit.
If that's not enough, this stand is also durable due to its hard steel build.
The only downside of this miter saw stand is the price; if you are on a strict budget, then this may not be the stand for you.
But, that said, this model is expensive for a reason – it is an excellent miter table saw stand, perhaps the best possible stand you can buy online today.
Pros
versatile
rolling wheels (portable)
durable
automatic leveling
easy to use
Cons
2.BORA Portamate Miter Saw Stand Work Station (PM-8000)
Sale
Bora Portamate - PM-8000 Miter Saw Stand Work Station | Mobile Rolling Table Top Workbench | Orange & Grey with Folding Wing Extensions Orange/Black
Easily and quickly mount your Miter saw or other power tools on this super secure saw stand work bench. Saw safely with precision, and without any wobbling or movement
Product size – 29" D x 31" W x 34" H | Weight – 90 lb. | Work surface – Up to 7 feet | Saws that fit – 26.5" W | Weight limit – 400 lb.
The porta cube's two 30" Wings can fold outward and lock into place, providing you with 60" or a full 90" Workspace | The collapsible wings include moveable inserts that align level with your saw
The workstation includes a handle and wheels, allowing it to be easily moved from one area to the next. This rolling stand is perfect to use when space is a consideration or for efficient transportation to different work sites
When not used for cutting, the saw table area reverse flips, allowing the stand to become a full, level table to be used for planning, measuring and working on other projects. When the saw is flipped down, it stays safely attached and out of the way
This miter saw stand from 'Bora' is a great option for any woodworker who wants a versatile stand that is built well and relatively sturdy.
The PM-8000 weighs 95 pounds and has over 7 feet of workspace, more than other stands have. Not only that, but this miter saw stand is portable thanks to the built-in rolling wheels.
A unique benefit of this stand is the ability to 'flip away' and reverse the stand so that it becomes a table area, which can then be used for measuring and other woodworking work.
All in all, this is a durable, well-built saw that is somewhat expensively-priced yet worth a purchase.
Pros
quite versatile (not as much as the Bosch T4B)
compact
reverse-flip table top (convenience)
portable
Cons
3.DEWALT Miter Saw Stand With Wheels (DWX726)
Sale
DEWALT Miter Saw Stand with Wheels, Collapsible and Portable, Holds Up to 300 lbs (DWX726)
Easily adjustable mounting rails of DEWALT miter saw stand adapt to nearly any miter saw
Miter saw stand with wheels featuring wide rubber grip provide easy jobsite mobility
The rolling miter saw stand features three-position pneumatic assisted raising and lowering for the ultimate in flexibility and ease of set up
Durable tubular steel construction allows for a 300 lb maximum weight capacity
Compact vertical storage option maximizes workplace efficiency and ease of transport
This is a miter saw stand from the very well-known brand 'Dewalt' – in the woodworking world, this company is as reputable as they come, and this stand model does not disappoint.
Despite the unnatractive look and design, this miter saw stand is built well and relatively easy to use.
It is 'universal', compatible with almost all miter saws – not only that, but it comes with built-in wheels for portability as well.
Also, this stand can accompany up to 8 feet of materials on its top.
This saw is very fairly priced.
Pros
durable
portable (with wheels)
universal compatibility
fair price
Cons
4.BORA Portamate Heavy Duty Folding Miter Saw Stand (PM-4000)
BORA Portamate PM-4000 - Heavy Duty Folding Miter Saw Stand with Quick Attach Tool Mounting Bars Orange 44 x 10 x 6.5 inches
A cut above - The Bora Portamate PM-4000 is the best, most practical, hassle-free stand you'll find for miter saws or chop saws. Constructed of tubular steel with a powder-coated finish, This rugged yet lightweight saw stand can support up to 500 lbs. And is compatible with Miter saws up to 12 inches, including compound sliding saws.
Cut out for convenience - setup is quick and simple, as the folding legs swing Under the center portion and are secured by pins that snap into position. Stand folds up for easy transport, storage and carrying from your vehicle to the worksite. Folded size is 43. 5" W x 20" D x 6. 5" H and Weighs only 30 lbs. Without a saw.
Switch gears & mount add tools - quick-attach saw mounts allow for easy mounting of your saw, as well as other tools which you can switch around, set up and take down quickly – hardware is included. Additional mount sets sold separately offer a wider variety of tools that you can use with your PM-4000 stand.
Makes the cut – our PM-4000 saw stand was specially designed to provide the ideal ergonomic working height of 36 inches, so professional contractors and day's can work safely and comfortably while making cuts with absolute precision and secure stability.
Another miter saw stand from 'Bora', this model is very portable – weighing only 30 pounds – that is surprisingly capable of heavy saws compared to how lightweight it is.
The legs of this stand fold out when being used, and when it's not, this stand is very compact.
This stand also has universal compatiblity, a major benefit.
If you want, you can buy a kit separately that allows you to attach wheels for portability concerns.
All in all, this is a great miter saw stand especially if you don't want to pay as much as you will have to for similar models.
Pros
great for woodworkers on a budget
durable
universal compatibility
lightweight
Cons
no wheels (not portable)
not very stable during use
5.Evolution Power Tools Compact Folding Miter Saw Stand (EVOMS1)
Evolution - 005-0001 Power Tools EVOMS1 Compact Folding Miter Saw Stand with Quick Release Mounting Brackets, Rollers, and End Stops, Black
Quick & easy set up: the folding legs, quick release mounting brackets and support arms that slide into the stand, allow for simple set up, storage and transport
Sturdy & Robust: this miter saw stand can support long workpieces up to 118 inches in length and has a maximum work load of 330lbs
Quick release brackets: quick release mounting brackets allow for fast miter saw removal
Repeat cuts: height adjustable arms with rollers and end stops make quick work of repeat cuts
Fits all Evolution power tool's miter saws, as well as most other brands of miter saws
This miter saw stand from 'Evolution Power Tools' is quite heavy-duty, although the lighter weight of this stand (34 pounds) might lead you to believe otherwise.
This stand is foldable and collapsable, allowing it to be tucked away whenever not in use.
The build of this miter saw stand is great, and you can expect it to last for years to come.
Also, this is another great miter saw stand for woodworkers on a budget.
Pros
durable
lightweight
collapsable
good price point
Cons
no rolling wheels
non-adjustable height
Things To Consider (Buyer's Guide)
Before we get into our picks as the best miter saw stands on the market, it's important that we go over the various factors that influenced our decisions and what you need to look for in a stand.
We can only recommend what we believe are the best stands – when it comes to specifics, you need to know what to look for and what to base your buying decision off of.
So, without further ado, let's get into it.
Types of Stands
To start, there are a few different types of miter saw stands… each with their own benefits and intended use.
It doesn't matter if you are a seasoned-pro or a full-on woodworking newbie, if you are looking to buy a miter saw stand then it is essential to know the different types you can choose.
They are as follows:
Traditional
This classic type of miter saw stand is very basic – for the most part, it is simply a plank of wood that connects sawhorses.
It is the simple design that offers plenty of functionality.
Ideally, this stand type is best intended for woodworkers who plan on leaving this stand in one place until the end of time.
This type of miter saw stand can also be used for job sites but, realistically, it is not fit for it. These traditional stands are inherently too large to move and will not accomplish the job a more portable stand is able to.
Rail
This type of miter saw stand is very common.
The rail stand is designed to be lightweight and portable, typically with foldable legs that make transporting it from site to site a breeze.
Generally, the more epensive a rail miter saw stand is, the more sturdy it will be and the heavier it will be as well.
This type of stand gets the job done and are usually best for woodworkers on a budget.
Tabletop
This type of stand is a blend between a traditional and rail miter saw stand.
Just like a rail stand, the tabletop stand usually has foldable legs – however, the rail is a table top of which your saw needs to be fastened to.
This type of miter saw stand is not as portable as a rail stand, but can often still be transported… but it is not ideal.
Generally, a tabletop stand will be somewhat sturdy.
Rolling
Rolling miter saw stands are very popular among woodworkers, and for good reason; they are typically portable and easy-to-use, a 'best of both worlds' between a rail- and tabletop-style stand.
These miter saw stands are built with both locking wheels and legs that can be collapsed easily – also, they are intended to fasten to the miter saw, which means you can transport them both as 'one piece'.
Generally, the rolling miter saw stand is the most expensive but that is because they are the best to use for woodworkers.
Compound
These are diverse stands that are usually very stable and come with features that you won't see on other stands (this is because these stands often combine old and new stand features).
A compound miter saw stand can vary greatly in design, which means they might be very portable or not at all.
Choosing the best miter saw stand type for you depends entirely on you; for example, how much you want to spend, how lightweight you want it to be, how sturdy you want it, etc.
Budget
It is also very important to consider how much you are willing to spend on your miter saw stand.
Generally, it is best to come up with your budget before you start looking at miter saw stands… this way, you won't be tempted to dip into your savings or spend too much than intended when you are presented with offers.
By determining your exact budget, you can then filter out stand options that work for you.
Brand
Although the brand name of a miter saw stand might not really matter, it is generally safer to purchase from a well-known and reputable company as opposed to one that no one has heard of.
Usually, brands get a good name for a reason – because they make good products.
If you are purchasing from a business that is relatively unknown in the woodworking world, it may be a gamble.
Do your own research to determine whether buying a miter saw stand from an unknown company is worth the risk or not before you buy!
Portability
When we discussed the various types of miter saw stands, we frequently mentioned how easy it is to transport based on its design – this is a crucial factor to consider when deciding on the best stand for you.
Choosing a stand based on portability is very important since every woodworker has different needs and work habits; some may be able to buy a stand and leave it in the same spot forever, while others travel to different job sites every other day.
Think about where you do your woodworking – at home in your shop, or other locations?
Base your miter saw stand purchase decision on how portable you need it to be, or else you will be in for an unneeded effort and headache.
Stability
How stable your miter saw stand is is another important aspect to consider before you buy.
If your stand wobbles too much, cutting will be difficult – how much your stand wobbles will depend on its design, the size of your miter saw, your woodcutting, etc.
An unstable saw stand can be helped or fixed, but why bother?
Choose a miter saw stand that can handle your saw so that your woodcutting experience is a good one.
Ease-Of-Use
How easy a miter saw stand is to use can depend on a number of factors, including:
how difficult it is to fold the stand
how portable it is
how hard it is to fasten to the saw
how easy is it to release saw mounts
If your stand is hard to use then this can defeat the purpose of it in the first place – be sure that you are purchasing a miter saw stand that is overall easy-to-use, otherwise, your experience will not be a good one.
Versatility
Yet another factor to consider when looking for the best miter saw stand for you is versatility.
Obviously, these stands vary greatly in terms of functionality, size, weight, portability, price, etc.
However, certain saws will be able to accompany a wider range of miter saws than others. Even further, a miter saw stand may be too small to hold your miter saw – it all depends on each woodworker and their toolbox.
If you have more than one miter saw, choosing a versatile stand is essential; this means one that can handle a wide range of miter saw sizes. Otherwise, you will need to go out and buy another stand… which is not ideal.
The most versatile miter saw stands will usually come with a kit and clamps so that the stand can be adjusted in order to accompany large miter saws.
That said, just because a stand comes with an adjustment kit, doesn't mean it will necessarily fit with your miter saw – the mounting hole patterns may differ, or other circumstances.
Overall, the more 'versatile' a miter saw stand is, the better… and likely, the more expensive it will be.
Durability
How durable a miter saw stand is generally depends on the materials used to build it, the design, etc.
As you might expect, the higher quality materials and the more durable a stand is, the more it will usually cost.
That said, it's best to look at this as an investment… because it is. It is better to buy a stand for $100 that will last you five years rather than buy a $30 stand that will need a replacement every single year.
However, if you don't have the budget for a higher-end and durable miter saw stand, there is nothing wrong with buying one you may need to replace in the future.
Conclusion
There you go – five of the best possible miter saw stands money can buy, available online today.
Any of the miter saw stands we've featured in this guide are worth the money they cost – it is best to look at these pieces of equipment as an investment, as opposed to a simple one-off purchase.
These stands will allow you a better woodcutting experience with your miter saw; that said, always perform your own research to find the best stand for you… every woodworker will have different features that are most important to them, so be sure to consider the various buying factors outlined in the first portion of this article.
Overall, the Bosch T4B is by far our #1 pick as the best miter saw stand on the market today – this is an opinion shared by many woodworkers, from pro to beginner, alike.
You truly cannot go wrong with this stand due to its portability, build, versatility, ease-of-use, and more.
Read more: