If you simply want to know what we chose as our #1 pick for the best miter saws for beginners, then we recommend the Metabo HPT C10FCGS as the best choice.
If you are looking for a tool that will take you to the next level in your 'woodworking career', a miter saw is just the piece of machinery you need.
Miters saws are great for crosscuts, allowing you the benefit of cutting directly across the width of the wood. Not only that, but bevel and miter cuts are another specialty of this type of electric saw.
What is a miter cut?
This type of cut is an angled slice across the width of your lumber – this creates an off-centred point. This is done by the sawblade, which stays at a 90 degree angle during cutting.
And, a bevel cut is done with an angled sawblade which, subsuqeuntly, cuts an angled edge at the end of your piece of lumber.
Bevel cuts and miter cuts are both used for furniture, cabinets, and other users. But, no matter what your exact intention is with your miter saw, it is a worthwhile investment for any woodworker who wants to advance their skill.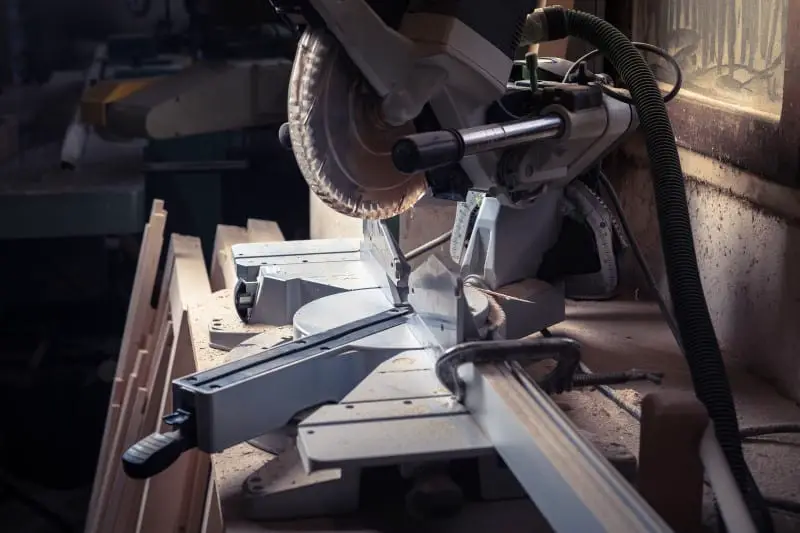 The five miter saws we are going to review are:
1.Metabo HPT C10FCGS 10-inch Single Bevel Compound Miter Saw
Sale
This miter saw model from the reputable brand 'Metabo' is a great option for beginners not only because of its solid ability as a saw, but for its amazing price point as well.
For how cheap this saw is, the motor is quite powerful – at 15 amps, this saw packs all the punch you need to handle even the hardest of lumber.
This saw has a miter ange-range of over 50 degrees both ways, as well as a bevel range of 45 degrees – this is ideal for a miter saw, especially for a beginner.
Also, this saw is precise in its cutting; overall, this is the perfect miter saw for a beginner woodworker who is on a budget but does not want to forfeit power and performance.
Pros
cheap price
perfect for beginnners
good cutting angles
powerful
precise
Cons
not able to handle larger pieces of lumber
2.Hitachi C10FCG 15-Amp 10-inch Single Bevel Compound Miter Saw
Hitachi C10FCG 15-Amp 10" Single Bevel Compound Miter Saw
0-52 degree miter angle range to the right & left for increased flexibility
0-45 degree bevel range to the left to provide clean and accurate bevel cuts.Thumb actuated positive stops for quick miter adjustments
24.2 lbs to facilitate maneuverability and easier transport.Dust collector attachment included to minimize airborne particle
15 Amp motor delivers high power for the toughest cutting jobs.Large table for better material support with vice clamping system to secure work piece
Miter ranges – left 52, right 52
This miter saw model from the reputable brand 'Hitachi' is our #2 pick due to its accuracy, power, and overall 'control' during use.
When it comes to beginner woodworkers, this miter saw is quite heavy duty – if you don't have the budget for this model then it is probably not necessary to purchase a saw of this size and quality.
But, if you want a great miter saw that can handle the toughest of wood, this is it.
Also, this saw has a great range in terms of miter and bevel angles.
This model is precise and quite easy to use and is a great option if you have the budget for it.
Pros
can cut difficult hard wood
good angle ranges
easy to use
precise
powerful
Cons
the blade is of poor quality
pricey for some
3.DEWALT DWS780 12-inch Double Bevel Sliding Compound Miter Saw
Sale
DEWALT Miter Saw, 12 Inch, 15 Amp, 3,800 RPM, Double Bevel Capacity, With Sliding Compound, Corded (DWS780)
Integrated CUTLINE Blade Positioning System provides adjustment free cut line indication for better accuracy and visibility for the 12-inch miter saw blade
XPS technology uses an LED to project light down either side of the blade, creating a shadow on the cutline once the saw arm is lowered
Super-efficient dust collection system of DEWALT miter saw captures over 75% of dust generated
Tall sliding fences support crown molding up to 7-1/2-inch nested and base molding up to 6-3/4-inch vertically against the fence while easily sliding out of the way for bevel cuts
Exclusive back fence design cuts up to 2x14 dimensional lumber at 90 degree and 2x10 at 45 degree
'Dewalt' is a brand well known for producing great electric saws, and this model is no different.
This miter saw is an excellent choice for beginner woodworkers; is performs well, with a solid motor that will stand the test of time of go up against difficult-to-cut woods.
This saw is also great at vertical cutting jobs, which is a benefit similar saws do not offer.
Also, the miter saw model has a stainless steel miter plate – all in all, this is a good choice for beginner woodworkers, an investment that will last years to come.
Pros
durable
stainless steel miter plate = increased productivity
Cons
needs regular maintenance, moreso than other miter saws
4.DEWALT DWS779 12-ich Compound Miter Saw
Sale
Another miter saw option from the brand 'Dewalt', this is an affordable saw that is not only built with high-quality materials but is also powerful.
The motor on this saw contributes to a very efficent woodcutting experience – this saw works with speed, meaning you can get a lot of woodcutting done in a short amount of time.
The fence system in this miter saw is A+, built well and with a great design.
Also, a major benefit of this miter saw over others is the precense of a dust collection system; this feature is well-built, and will drastically reduce the amount of sawdust expelled during woodcutting.
Pros
efficient woodcutting
great fence system
includes a dust collection system
Cons
5.Bosch GCM12SD 12-inch Dual-Bevel Miter Saw
BOSCH GCM12SD 15 Amp 12 Inch Corded Dual-Bevel Sliding Glide Miter Saw with 60 Tooth Saw Blade
AXIAL GLIDE SYSTEM: patented glide system allows wider cross cuts and better alignment while also being compact, saving you 12 inches of valuable work space
CAPACITY: expanded cutting capacity, 14 inch horizontal capacity nominal 6 1/2 inch vertical capacity against the fence base 6 1/2 inch crown capacity against the fence 45 spring
ADJUSTABLE: provides easy adjustments with a large, easy-to-read uniform bevel and stainless steel miter scales with marked detentes and roof pitch angles; Bevel detents: 0, 33.9 degree, 45 degree left/right for accurate cuts; Category's best 90 percentage dust collection optimized for cutting 2x material with a vacuum
PRECISION: square lock quick release fences lock fence 90 degree to the table and requires no adjustment, 1 touch lock/unlock to slide fence for added support
EASE OF USE: upfront bevel controls all metal bevel lock lever and range selector located upfront for quick and easy bevel settings without reaching behind the saw
'Bosch' is a well-known brand in the woodworking world, and for good reason – they make great equipment, including miter saws.
This model is a compact saw that can fit into even the smallest of workshops and can be transported quite easily – however, because of the smaller size, this saw cannot handle larger pieces of wood.
Despite the compact design, this saw works very well – it has a built-in glide system that allows users the benefit of smoother cuts and precise alignment.
Not only that, but this saw is capable of a wide variety of cuts (which is not true for many other miter saws).
Also, this saw is overall easy to use; so, if you are a beginner, you really can't go wrong with this miter saw from Bosch.
Pros
compact
versatile
precise
smooth cutting
Cons
can't handle larger lumber
Choosing the Best Miter Saw for You
There is a vast number of electric miter saws out there available for purchase, all with their own benefits, features, price, etc.
These miter saws can cost anywhere from $100 to $1000+.
The same is true even if you are a beginner woodworker looking for your first miter saw – there is a lot of options, so you need to have an idea of what to look for and how to choose the best saw for you.
Since there are so many features from one miter saw to the next, before you decide on the best saw for you it is important to know exactly what you are looking for.
Considering the fact that you are a beginner, there are many features and accessories included with advanced miter saws that you do not need to worry about today.
But, that doesn't mean it won't take a bit of learning and understanding so that your miter saw purchase is an 'investment' and not just a quick buy.
So, without further ado, here are some factors you need to consider before buying a miter saw:
Budget
Yes, your budget is a very important aspect of choosing the best miter saw for you.
Woodworking is a hobby, and no hobby (no matter how passionate you are about the craft) is not worth spending your life savings or going broke over a purchase.
Luckily, we are only taking about miter saws here and not other, more expensive buying decisions that may come later in your woodworking journey (think: woodworking workshop).
All that said, it is still very wise to strongly consider how much you are looking to spend on your new miter saw and what the maximum amount you can afford before you start looking at saws.
This way, you won't be 'tempted' by more expensive saws that are out of your price range.
Remember – this is only your first miter saw… years later, once you have more experience and are more willing to invest larger amounts into your woodworking toolbox, you can start looking at the $1000+ miter saws.
Naturally, more expensive means better – a $100 miter saw will not be as powerful or precise or feature-packed as a saw that is 10x it's price.
But, not to worry – even with a couple hundred bucks, you have enough buying power to get a great miter saw that will work well and last you years, without need for repair or replacement.
Brand Name
There are hundreds (if not thousands) of available miter saws that can be purchased online at any given time.
Also, there are many companies that create these saws – some of these brands are well-known and reputable, and some of them are not.
It is not always necessary to purchase a saw based off of its brand name, however, it is worth considering when making a buying decision.
Perhaps you have personal experience – good or bad – with a brand. It makes perfect sense to pick (or avoid) a miter saw based on your relationship and perception of this specific brand.
Also, it is smart to avoid lesser-known brand names when choosing a miter saw to buy – while you can certainly find great models from brands you've never heard of, it is simply safer to not do so.
Blade
The blade of a miter saw – and any saw, for that matter – plays a key role in how effective the saw is at cutting your lumber.
Luckily, the blade is replaceable and easily swapped out with most electrical saws. But, that said, the need to buy a new blade on top of the price of your saw might push past your budget.
Also, it is somewhat of a nuisance to not be able to use your miter saw as intended right out of the box… it is far easier (and usually cheaper) to choose a miter saw that ships with a solid blade.
Another thing to consider; your miter saw blade will determine the depth and height of your woodcuts. So, it's crucial to think about what exactly you intend to use your saw for, the type of wood you will be cutting, etc.
The most common blade sizes are 8, 10, and 12 inches – the bigger the blade, the larger the cut.
Also, it's necessary to look at the teeth of the blade as well – how many teeth your miter saw blade has plays a factor in how fine of a cut it will produce.
Fence System
Yet another key factor to consider when choosing the best miter saw for you is the fencing system.
Miter saw fences (and other fences) have varying heights, so you must know the height of a fence system before you purchase.
Your miter saw fence is what will keep your wood materials secure when your are cutting the wood – this helps you, the woodworker, make more accurate cuts and allows you more freedom during the cutting.
The larger the lumber you are cutting, the larger height you will need in your fence.
Safety Features
The safety of a miter saw and how important that is in your buying decision is totally up to you, the user.
Some woodworkers place safety as a top priority, while others do not – whatever your opinion is, you should purchase a miter saw that reflects how you feel about safety.
Common safety features in miter saws that you may deem valuable include:
blade guards (this covers the saw blade's outer edge to protect the woodworker from the sharp blade during use – a transparent guard is ideal so that you can still see what you are cutting)
electric brake (an electric brake stops the miter saw blade from rotating whenever you let go of a safety trigger – this protects you from the dangerous spinning blade)
safety clamps (these help you secure your wood during cutting, which prevents wood movement and subsequent accidents)
lockout triggers (this is a switch located on the handle that must be let go of in order to start the saw – this prevents an accidental turn-on of the saw, which can cause injury)
dust extraction (dust ports are most often found in table saws and not as much in miter saws, however there are certain models that offer this feature – this prevents hazardous saw dust or other debris from getting in your space during use)
You may want a miter saw that must have all of these safety features, or you might not care at all – either way, safety is an important aspect to consider to help you choose the best saw for you.
Motor
Obviously, the motor in your miter saw will determine how fast or powerful the saw actually is.
The more hard or large the lumber you need to cut, the better motor you will want – also, if you want a faster and more efficient woodcutting experience with your miter saw, a more powerful motor is always best.
Weight
How heavy (or how light) your saw is should be another factor to consider when deciding on which miter saw model to purchase.
Since you are a beginner, buying a lighter table saw is generally preferred – this gives you the ability to move it around yourself and transport it whenever needed.
Also, the heavier table saw models tend to be more expensive – since you are purchasing your very first miter saw, you might not be interested in these more expensive models.
Angle Range
Since a miter saw is intended to make angled cuts, the angles a saw is able to cut in is important to consider.
For beginners, a miter saw should at least have both a bevel and miter cut of over 30 degrees, in both directions – this allows the woodworker the benefit of being able to make a large variety of cuts.
Vibration Reducer
Vibration during woodcutting with an electric saw is the ultimate enemy for any woodworker.
Not only is it annoying, but it can also impact your actual woodcutting job and how clean of a cut you accomplish.
Luckily, certain electric saws come with a vibration-reducing feature – it is not common and likely won't be included with cheaper models, but you may consider this an essential feature and want to buy a saw that has this benefit.
Voltage
The voltage required in your miter saw will depend on what you have access to in your workshop.
Generally, you will need a miter saw with a 120 voltage – this means you can plug it in anywhere.
When you become more advanced and want a larger (and more powerful) miter saw, you might want a 220v saw… in which case you will need a plug in your workshop that can accompany this voltage.
And there you go – these are all the most important factors to consider when deciding on which miter saw is best for you.
Now, let's look at our top 5 picks as best miter saws for beginner woodworkers.
Best Miter Saw for Beginners (Reviewed)
Here are the best miter saws for beginner woodworkers who are ready to make the small investment in order to advance their skill.
Please be sure to conduct your own research as well before purchasing any piece of woodworking equipment, electric or otherwise.
Also, remember to keep in mind the various factors that we've discussed in the first portion of this article so that you can get the best saw for you.
Conclusion
There you go – you now have five great miter saw options to buy as a beginner, all with different features, benefits, and assets.
Please remember that a saw this is perfect for one woodworker might not be ideal for another, so be sure to consider the factors outlined in the first half of this article to find the best option for you.
And of the five miter saws that we've inlcuded today are excellent choices for the beginner woodworker who is ready to make an investment in their craft.
However, all five miter saws compared, the Metabo HPT C10FCGS is our top pick due to its price point, accuracy, power, and all around solid performance for woodcutting.
If you are a beginner woodworker, you really can't go wrong with this miter saw.
Read more: