If you simply want to know what we chose as our #1 pick for the best woodworking apron, then we recommend the Heavy Duty Waxed Canvas Work Apron as the best choice.
Every woodworker has their own set of tools and accessories that they use to do the best work possible. In this industry, there is a vast array of products intended to help us have the best experience when working – and, as far as essential products go, a woodworking apron is certainly one of them.
In fact, we will go as far as saying that an apron is one of the most important products in your workshop. Too much? Maybe, but we argue that a woodworking apron is so essential because it not only protects you from many of the dangers when cutting wood, but it also offers convenience in the form of access to materials and tools.
Yes, on top of safety and convenience a woodworking apron is also a stylish accessory you can wear when working. Since there is such a large variety of aprons out there for purchase, you have extreme flexibility in choosing which ones you want based on not only functionality but looks as well.
With the thousands of woodworking aprons out there, you can pick whatever one fits your personal wants and needs.
In this article, we will go over our top five picks for the best woodwoorking aprons that you can buy online today – but, before that, we will take a look at various factors that you should consider in order to make the smartest purchase for you.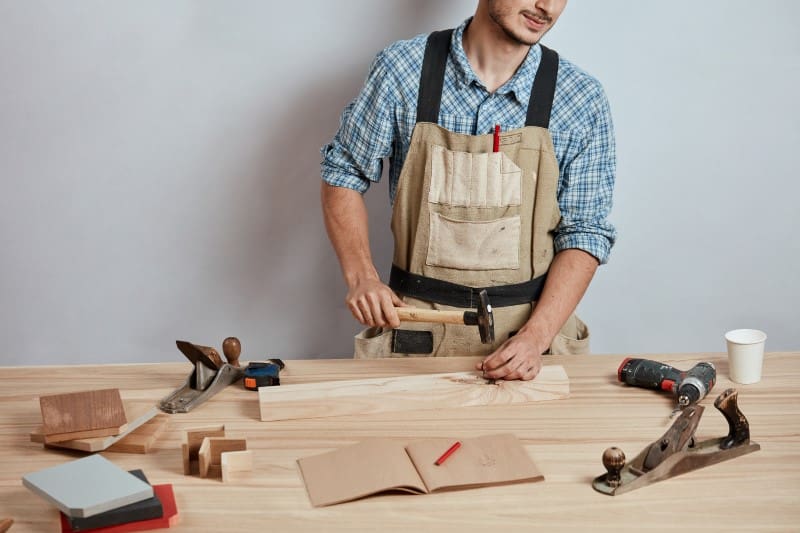 The five woodworking aprons we are going to review are:
5 Best Woodworking Aprons (Reviewed)
As you now know, a woodworking apron is one of the most essential parts of a woodworker's toolbox.
Besides general safety protection, these aprons all offer unique levels of functionality, appearance, and comfort.
As always, please do your own research before purchasing any type of woodworking equipment, aprons, or others.
So, without further ado, our top five picks for the best woodworking aprons available for online purchase today are as follows:
1.Heavy Duty Waxed Canvas Work Apron by Hudson Durable Goods (Black)
Hudson Durable Goods - Waxed Canvas Apron - Black Apron for Men and Women - With Pockets & Crossback
Built to Last - Hudson Durable Goods makes top-quality aprons for men and women alike. Our waterproof apron is composed of heavy-duty 16 oz waxed canvas fabric, made to withstand wear and tear
Customized Comfort - Get all-day comfort from our crossback apron with its customized fit. It features a long and adjustable strap of up to 50" and measures 27" wide x 34" tall for full coverage and protection
Tool Pockets - This apron with pockets comes with a chest pocket to access your phone or pens easily, a kangaroo-style pocket to keep your tools within reach, and a right hip loop to hang your towel
Professional Style - Combine elegance, comfort, and functionality with this work apron no matter what your profession is. This waxed canvas utility apron comes in a variety of colors to choose from
Extensive Uses: Our multi-purpose apron with pockets also works well as a woodworking apron, chef apron, kitchen apron, cooking apron, barber apron, hair stylist apron, pottery apron, stylist apron, shop apron, & more
Although not the best option for woodworkers on a strict budget, this woodworking apron from 'Hudson Durable Goods' is a premium choice that offers maximum protection and functionality.
Made from waxed canvas, this is a quality product that will be able to withstand a fair amount of wear and tear.
This is an adjustable apron, which means you lengthen or shorten based on how it fits you once you own it.
Complete with padded straps, the design of this apron is ideal for any woodworker with back or neck issues; even if this isn't you, this apron is very comfortable to wear for extended periods of time, which is great for everyone.
This apron is a bit heavy so if you are lighter or simply want a lightweight apron, this is not the apron for you.
The only other downside of this woodworking apron is the pocket design – the layout of the pockets seem to have no organization. That said, the pockets have ample storage for your tools.
A unique benefit of this apron is the sawdust flaps, which keeps sawdust and other debris from entering your pockets and damaging or dirtying your tools.
Pros
durable and high-quality material
padded straps
good strap design
a good amount of storage space
adjustable
sawdust flaps
Cons
more expensive than others
poor pocket organization
2.Arsenal 5700 Torso Length Work Tool Apron by Ergodyne (Gray)
Sale
Ergodyne Arsenal 5700 Torso Length Work Tool Apron, 16-Pockets, Gray
A PLACE FOR EVERYTHING 16 various sized pockets for tools and small parts and two hammer loops
ADJUSTABLE FOR COMFORTABLE FIT waist and shoulder straps adjust from 28in – 52in (71cm – 147cm) to fit wide variety of sizes
DURABLE Made with 14oz. heavy-duty abrasion-resistant canvas reduces wear
ERGONOMICALLY DESIGNED Evenly distributed pockets to stay balanced and organized
MOBILITY Shorter length to promote bending, kneeling and manuvering around work space
If you are a woodworker on a budget, you will not want to miss this apron offering from Ergodyne.
Despite its low price, this apron is surprisingly durable and made from quality canvas.
This apron has 16-pockets of varying sizes, which means more than enough storage room for your materials and tools. However, that said, the pockets are not as big as other aprons on this list so if you plan on storing larger tools you may want to look elsewhere.
This is a light and short apron, which is a bonus for smaller woodworkers or those who simply prefer this.
Overall, this woodworking apron is perfect for woodworkers on a low budget who still want a quality product that will last a long time and function properly.
Pros
very affordable
solid quality
lots of pockets
lightweight & shorter
Cons
3.Leather Work Shop Apron by QeeLink- Heat Resistant Heavy Duty Welding Apron (Brown)
QeeLink Leather Welding Work Shop Apron with 6 Tool Pockets, Heat & Flame Resistant Cowhide Heavy Duty Blacksmith Apron, 24" x 36", Adjustable M to XXXL for Men & Women (Brown)
SUPERIOR PROTECTION: Heat & Flame-Resistant heavy duty split cowhide leather welding apron. Extra Long full coverage apron protect you until the knee when you are working.
MORE DURABLE: Made of thick split cowhide for durability. And it is wear & flame-resistant for protection from flame and spatter. Sewing with strong, heat resistant US Kevlar thread. We pay attention to every detail, emphasis on quality.
TOOL POCKETS: 6 pockets for tools and work accessories. Include one cell phone pocket and one pencil pocket. We offer customer great convenience as much as possible.
MULTI - FUNCTION. Ther leather apron is not only for welding but also useful for many other work and home tasks. Idea for tools apron vest, shop apron, utility apron, work apron, bbq apron, grilling apron, woodworkers apron, workshop apron, garage apron, lead apron, personalized apron, mechanics apron, machine apron, lathe work apron, metalwork apron, metalsmith apron, blacksmiths apron, gardening apron, pocket apron, bulk apron, farrier apron. Unique gift apron for men, women, mothers, fathers.
SATISFACTION GUARANTEED: If you're not COMPLETELY SATISFIED with our product, you will get a 100% COMPLETE REFUND.
This leather apron from QeeLink is a great choice for woodworkers who want a heavy-duty apron that can withstand even the most intense of elements, such as fire and heat.
The threads the sew this apron together are US Kevlar, which means (in addition to the leather) it is as durable as can be.
The pockets are varied in size, both large and small – there are 6 pockets in total.
Due to the material that makes up this apron, it is both on the heavier and more expensive side of things.
All in all, if you want a robust apron that will endure your woodworking with you and protect you from the elements, this apron is an excellent choice.
Pros
very durable (fire and heat resistant)
good pockets
nice leather appearance
Cons
heavy
more expensive than others
4.Waxed Canvas Woodworking Shop Apron by ecoZen (Brown)
Sale
Woodworking Shop Apron - 16 oz Waxed Canvas Work Aprons | Metal Tape holder, Fully Adjustable to Comfortably Fit Men Size S to XXL | Tough Tool Apron to Give Protection, Ideal Fathers Day GIft for Dad
Top quality 27 inches wide x 34 inches long full coverage apron protects you until the knee when you are working. If you've been looking for a premium quality heavy-duty work apron at an affordable price then your search is over. That's because our 16 oz waxed canvas apron is handcrafted, reinforced with grommets and rivets, double stitched tool pockets and thick top and bottom hems which means that it is incredibly durable. Also includes a safety glasses strap and metal tape holder
Revolutionary. Unlike other aprons that are stiff and heavy as cardboard which cause you discomfort, our apron features a very tough but flexible material that gives you protection and still flexible enough to move comfortably. It also doesn't trap dust and prevent oils from soaking through to your clothes.
A Fresh approach. The problem with other aprons is it causes neck and back pain as it hangs around your neck. Our product solves that problem because our apron is designed to hang over the shoulder which means that weight is distributed evenly over the shoulders. Never suffer neck and back pain again.
Practical. Our Apron has strategically placed pockets so that you have everything you need close to hand instead of constantly search for them. Front pockets are deep and have ample space with flaps to keep out dust and can be tucked into pockets. The "cell phone pocket" is large enough to hold an iPhone 8+ with zip to prevent it from falling out when bending over.
Unique. Because our apron has a quick release buckle and unique harness design which is easily and fully adjustable. That is great because it can adjust to fit any body frame and preference. Once you have it adjusted to your fit, taking it on and off is straightforward and it stays on well without slipping off.
This waxed canvas woodworking apron from ecoZen is a great purchase for any woodworker who appreciates its style and appearance.
This apron is moderately weighted, not too heavy and not too light.
Also, the pockets are of ample size and they are double stitched as well – so they won't damage easily.
With padded straps and overall care for design, this is a very comfortable apron.
It also offers two sawdust-proof pockets to protect your tools.
Pros
very comfortable
nice appearance
durable
good pockets (two of them dustproof )
Cons
due to the waxed-canvas material, it must be stored and upheld properly
not as high-quality as other aprons with similar price points
5.Heavy Duty Waxed Canvas Work Apron by Texas Canvas Wares Store (Brown)
Sale
Texas Canvas Wares Woodworking Apron, Heavy Duty Waxed Canvas Work Apron With Pockets - M-XL Shop Apron for Men with Double Stitching, and Comfy Design - Brown, Adjustable Back Straps
TOP PICK BY POPULAR WOODWORKING MAGAZINE FOR 2021 GIFT GUIDE- Crafted of our specialized waxed canvas blend to give you year after year of DURABLE PROTECTION from DIY sawdust, stains and sticky substances. Save your clothes and KEEP YOURSELF CLEAN with this handcrafted custom-dyed 16 oz waxed canvas.
UPGRADED AND UNIQUE APRON DESIGN - These work aprons have a range of fantastic features you'll love, including steel rivets/grommets, cross-back straps to relieve back pressure, and two 7" x 7" reinforced front pockets with flaps you can easily tuck in. Made to be breathable yet durable, this double-stitched carpenter apron has removable shoulder pads for comfort, convenient cell phone pocket and a QUICK RELEASE BUCKLE
TRUSTED BY 30,000+ PROFESSIONALS- Woodworkers, Machinists, Craftsmen, DIY'ers and Homeowners alike dig this apron for the quality of the product and it's distinctive, gift-ready packaging. Use as a machinist apron, carpenter apron, workshop apron, great as a woodworking tool or accessory and an awesome gift for the man who has everything!
ONE SIZE FITS ALL - These aprons are made with a one-size-fits-all design that accommodates sizes M-XL. Measuring a generous 27" in width and 34" in height, our waxed canvas aprons offer you a universal fit with super-long straps that can accommodate a waist size of up to 50".
COMPLETE SATISFACTION GUARANTEED - At Texas Canvas Wares we're dedicated to giving you an apron you'll love and use for years to come. We want you to BUY WITH PEACE OF MIND, and that's why we offer you our 30 Day A-Grade Apron Money Back Guarantee on every purchase!
As the name suggests, this is a heavy-duty waxed canvas apron that looks great, is very safe, and is surprisingly light.
Overall, this is a durable apron – with reinforced pockets and high-quality materials, this product will stand the test of time.
Another benefit of this apron is the cross back straps and shoulder pads, perfect for anyone with neck or back pain… or simply for anyone who appreciates comfort above all.
The main downside of this apron is the pockets – although they are durable, there are simply not enough pockets compared to how long this apron is.
All in all, this is a solid woodworking apron.
Pros
offers great protection
comfortable design
high-quality and durable
lightweight
Cons
due to the waxed-canvas material, it must be stored and upheld properly
not enough pockets
not for woodworkers on a budget
Things To Consider
As mentioned, there is a virtually unlimited amount of options out there for woodworking aprons that you can buy even if you are on a budget.
No matter how much you have to spend, you will still have many different aprons to choose from.
So, before you decide to make the 'investment', here are some factors to consider:
Budget
It makes sense to bring up budget first before anything else… the reason for this being that a woodworking apron is not worth going broke over.
Woodworking is expensive, and there are so many different tools and accessories and machines that we feel we must buy in order to operate and execute projects successfully.
So, naturally, we have become accustomed to dolling out excessive amounts of money to purchase items that we feel are a necessity.
When it comes to woodworking aprons, although they are considered 'essential' by many woodworkers, that doesn't mean you have to spend top dollar in order to purchase an apron.
In fact, as you'll see from our top five list, you can get quality woodworking aprons for very little money.
That said, the nicest aprons with maximum pocket space, functionality, and high-quality leather may be out of your budget – and that's okay.
This is why it's smart to determine your exact spending limit before you actually start looking at available options so that you don't get swindled by a stellar apron that is too expensive for you.
Durability
How durable your woodworking apron is ties into the cost and your budget.
This is because a poor-quality apron that needs to be replaced every year or so might actually end up costing you more than the more 'higher-end' offering that costs 3x as much.
Judging the durability of a woodworking apron can be somewhat difficult, however, the materials often play a large role in how much abuse it will withstand and how long it can last.
For example, leather and canvas will almost always last longer than cheaper materials. Also, grommets made from plastic will break much sooner than if they are made from strong material like brass.
How thick the straps are also matters, as well as whether or not your woodworking apron is waterproof.
The stitching also plays a factor in how durable an apron is; single stitched pockets will not last as long as an apron with double-stitched pockets.
Before buying, it's best to read reviews in order to determine how durable a woodworking apron is. It can be difficult to gauge exactly how long it will last solely based on materials and construction.
Also, to be clear, every woodworker is different – we all use our own set of materials, liquids, tools, etc. Aprons that might last one woodworker years may not be able to withstand the work of another.
All of the woodworking aprons we've included in our top five are known to be durable, although some more than others.
Storage
The amount of storage offered in your woodworking apron is a factor that should be strongly considered before purchase.
Since aprons are used mostly for their functionality, the type (and number) of tools you will need to place in your apron should influence what you buy.
For example, if you rely heavily on the use of power tools then you will probably only need to hold small items in your apron, such as a pencil or knife.
But, if you are a 'fine' woodworker who uses manual tools then you will need a strong (likely leather) apron that can comfortably hold these heavy tools, with enough 'storage space' (pockets) to accompany them.
Appearance
Since your woodworking apron will be used so often by you every time you are in your workshop, why shouldn't you consider how it looks as well?
There are so many options out there for woodworking aprons that it makes sense to choose the one you personally like.
These aprons all have their own materials, designs, colors, length, etc.
Most of these style factors hardly change the functionality of the apron, so there is no reason to not find one that looks good to you as well.
Design
There are many different design aspects that you should consider when picking the right woodworking apron for you, one of this being weight.
Obviously, the weight of an apron is usually associated with the materials used to build it, but not always.
It is generally very easy to find the weight of an apron before you buy – depending on your body size and the type of work you do, an apron that is too heavy or too light might be a dealbreaker for you.
Also, different woodworking aprons have different amounts of padding in the shoulder area – if you are going to be carrying heavy tools or if you have any type of neck or back pain, you are going to want an apron with lots of padding.
Otherwise, you may only exacerbate your neck/back issues and the straps can actually cut your body as well.
Also, on that note, you might want to consider the strap design as well – 'crossed' straps are ideal if you have pain and want the weight of your apron and tools to be distributed in a way that is easy on your body.
Considering the fact that you will be wearing your woodworking apron every time you are in the shop, you will certainly want to purchase one that is comfortable for you to wear.
Another thing to consider is how 'free' you are able to move when wearing your apron. Certain types will be somewhat restricting, while others will allow you ultimate 'maneuverability'.
One aspect that affects how restricting an apron is how long or short it is; an apron that is too long for you will usually restrict you more than one that is too short, so be sure to purchase based on the size of your apron related to how tall you are.
Last design aspect that you should consider when choosing a woodworking apron – 'reinforcements'. These are the straps, buckles, rivets, and grommets that can be a nuisance to have to undo in order to put on or take off an apron; that said, many woodworkers prefer lots of reinforcements for the sense of security it gives them when wearing their apron.
All of the design elements that we've just mentioned should be considered when finding the right woodworking apron for you.
Safety
Since woodworking aprons are widely used due to the safety they offer woodworkers during use, it makes sense to choose your apron based on how safe they are.
Obviously, how important safety is to you is entirely up to you.
But, for example, if you are going to be using high heat in your woodworking then you will want an apron that is heat resistant.
Generally the higher quality the apron is, the more protection it offers.
For example, expensive materials such as leather will be safer to wear during woodworking than a cheaper material would.
Okay, now you know every possible factor to consider in order to help you find the best possible woodworking apron to fit your specific wants and needs.
Now that we got that out of the way, let's take a look at our top 5 picks for the best woodworking aprons you can buy online today.
Conclusion
Congrats – you now have five amazing options for quality woodworking aprons to choose from, all of which you can purchase online today.
As always, performing your own research is important for any buying decision since what is a good product to one woodworker may not fit the needs of another.
All of the five aprons we've included in this guide are great choices for any woodworker who is ready to make the investment.
That said, we chose the 'Heavy Duty Waxed Canvas Work Apron by Hudson Durable Goods' as our #1 pick; this apron offers maximum protection, is very durable, has a comfortable design, and is worth every penny it costs.
If you are looking for an excellent woodworking apron that will offer you lots of functionality and last you years, this is the apron for you.
Read more: